Artika Rachmi Farmita
Have you ever imagined going to any places you want without worrying about where to sleep because you can do it anywhere? In Indonesia, we usually take advantage of this type of low-budget traveling from the kindness of mosques. Or, sleeping in the bus terminal and train station which usually open 24hr. Of course, we can stay in hotels and hostels. But if we can do it in Sweden for free by biking and camping, why not try?
This could be possible because of Allemansrätten. Allemansrätten – or the freedom to roam – is a unique right to roam freely in the countryside protected by Swedish law that gives all people the right to be free in Swedish nature. In a brief explanation, in Sweden, we have the right to walk, cycle, ride, ski, and camp on any land with the exception of private gardens, near a dwelling house, or land under cultivation. We can choose any of Sweden's natural wonders; Swedish Lapland, the Swedish mountains, coastlines, and archipelagos. Isn't it tempting?
It is mentioned that this Right of Public Access is deeply rooted in Scandinavian culture. But after I did small research, Sweden holds this principle the most compared to its neighboring countries (you know how small Denmark is and how expensive the traveling budget of Norway is. Ooops, sorry to say!). No wonder why Sweden became the only country in the world that listed the entire country on Airbnb since 2017 (https://sweden.withairbnb.com/).
Before I heard about Allemansrätten, I never wondered how nature could trigger such an emotional relationship only by getting closer to it. In addition, this Allemansrätten creates such a new privilege for me because back in Indonesia, going to nature means extra cost to travel especially when you live in a metropolitan city. Specifically in my home province, East Java, many nature reserves are only accessible by a private car and of course, you have to pay for the entrance ticket. While in Stockholm, naturreservat is surprisingly accessible with public transportation, and most importantly, all of them are free entry!
Location: Himmelsö island, Haninge Municipality
Having relax in Himmelsö island, Haninge Municipality after failing to reach the next island, Muskö (one of the secret Swedish Navy's submarine base). Cyclists are not allowed to pass the three kilometer long road tunnel there.
In this article, I will share my experiences of traveling around Stockholm's archipelago. I started going cycling with friends in summer (yes, it's the most beloved season!). In the beginning, we only went to Stockholm's forests for blueberry and cherry-picking. It feels great to ride in the woods; grinds the tree roots, conquers incline after incline, breathes fresh air, and pumps adrenaline through the darkness. Then, we came up with the idea to push our limit to fully understand how true Sweden's Allemansrätten is; let's go bike-camping around Stockholm county!
The first challenge is the preparation because it combines two activities at once: biking and camping. We had zero experience in bike-camping at all, even one of us didn't know how to build a tent. Therefore, we tried to learn from other cyclists' stories and adjusted to our needs; from the destination, preferred time to start biking, duration, how many stops it would be, what type of food we brought, to where to camp.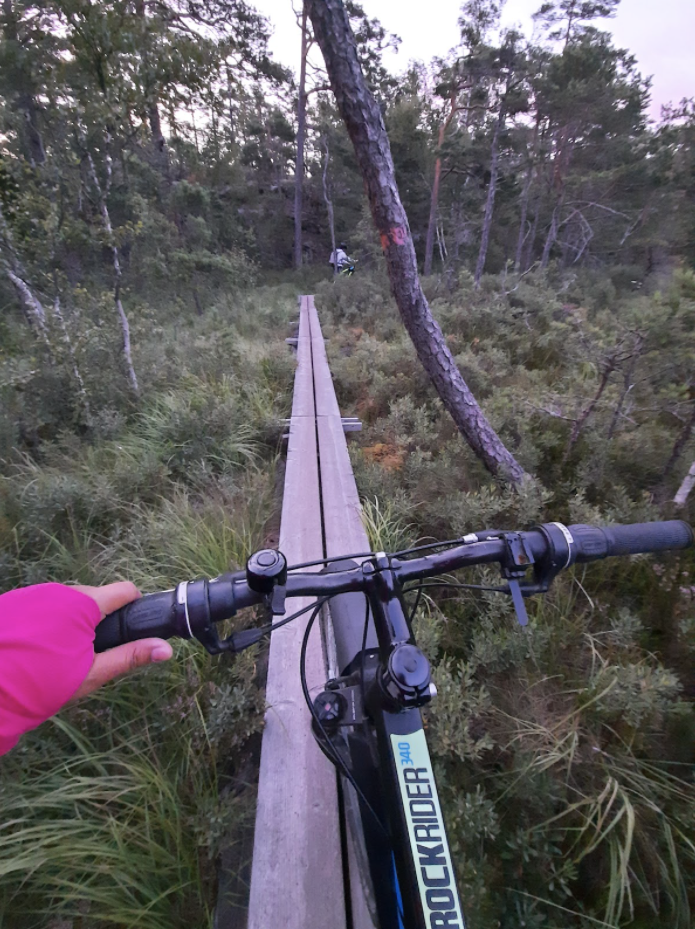 Location: Paradiset Nature Reserve
Starting in July when the summer came (but the coronavirus still hit the world hardly), we finally recorded our first bike-camping trip to Paradisets Naturreservat in Huddinge Kommun, southern of Stockholm City. We biked from Flemingsberg Centrum at 22:00 and arrived at the nature reserve around 02:00. I felt relieved we could reach Trehörningen lake and found that there were many people and their families also camping in the surroundings. As a newbie, it's good to start with a 'common and normal' place, right?
The best part of bike-camping is you will be able to see the beauty of Swedish nature differently. With my bike, I could reach further and faster than hiking. Also, I could camp in nature rather than staying in a hotel.
In total, I have been doing bike-camping for more than 1,300 kilometers in 3 months. From coastal area e.g Knäppelskär; several islands named Öja (where Sweden's artillery batteries are located to protect Stockholm from a Soviet attack during the Cold War), Ornö, Björnö, Yxlö, Vaxholm, Ekerö, Ljusterö, Mörkö; to some nature reserves called Paradiset, Käringboda, Väsby Hage, Östra Lagnö, Tyresta National Park, Ören.
After summer break ended, I managed to do bike-camping only on weekends with similar patterns; starting on Friday night after working hours, then returning on Sunday afternoon. Sometimes we did bike-camping to other cities like Uppsala, Enköping, and Norrköping to achieve more kilometers. Well, I feel that summer and autumn are the most convenient and less risky season to go bike-camping (unless there is heavy rain. I was suffering, lol!).
I heard some people still go camping in spring, but keep in mind that spring is the time for wild boars to mate and breed. We met wild boars twice – both between the dark main road and forest – and they were super scary experiences. One man, whom we met in Käringboda Naturreservat said that we couldn't fight a wild boar even though he's a wrestler himself.
What about winter? Ah, we know that nothing can stop people from doing outdoor sports in Sweden as long as we wear the right clothes, right?
Understanding the Basic Rule: Don't Disturb, Don't Destroy. Similar to Uncle Ben's last words to Peter Parker 'Spiderman', "with this right come responsibilities", Allemansrätten means that we have to take care of nature and wildlife, to show consideration for landowners, and for other people enjoying the countryside. The Swedish Environmental Protection Agency (EPA) sums up the Right of Public Access in the phrase inte störa, inte förstöra '(Don't disturb – Don't destroy'). In my own words: leave no trash, only memories and traces.
The next thing to consider is that we may not be able to go cycling in some areas which are indicated by a 'No Cycling' sign (or if it's in Swedish, just ask local people or try to Google Translate them). The local municipality or the police may issue local regulations that restrict cycling on jogging and hiking trails, for example in a tunnel. National parks and nature reserves also have some special rules for cycling.
So does camping. We must know exactly which naturreservat allows us to make our tent. 'You said it's free because of Allemansratten, Artika?' Hmmm, wait. In general, we can pitch our tent for a night or two in the countryside as long as we don't disturb the landowner or damage the surrounding nature (http://www.swedishepa.se/Enjoying-nature/The-Right-of-Public-Access/Det-har-galler/Camping–tents/). But not all nature reserves or areas of the national park are allowed for camping. We must know the designated area to camp and shouldn't camp outside the mentioned area. Again, each municipality may have different regulations. So don't get exhausted from reading their websites and information board on the spot one by one.
Wild Camping or Other Camping Styles? I just figured out that the terms of camping may vary and the tält (tent) with a triangle symbol in a nature reserve or national park can mean differently. There are three types of camping in Sweden: wild camping, caravan camping, and cabin camping (lodging). As I prefer camping with a tent for free, it is called wild camping.
Surprisingly, I often found that some nature reserves and camping sites in Stockholm displaying a triangle symbol for tents were not always for wild camping! I had to look meticulously at every spot and double-checked them on the municipality's website to confirm whether it is for wild camping, caravan camping, or cabin camping.
Location: Domarudden Naturreservat, Åkersberga municipality
For example in Tyresta National Park, it is mentioned on the website that we are referred to the wind shelters at lakes Årsjön, Långsjön, and Lanan. Tents may be set up for a maximum of 24 hours at all wind shelters, and at all fire and resting places close to the fireplaces. All such places are indicated on the map (http://www.nationalparksofsweden.se/choose-park—list/tyresta-national-park/visitor-information/rest-eat-and-stay/).
On the other hand, using an outdoor sport's apps, we found another camping sign in Styvnäset, still in Tyresta National Park area. We decided to go there because it seemed more interesting: facing the sea, not the lake. Unfortunately, when we arrived around 02:00 in complete darkness, we read the information board at the entrance that we have to pay for camping there and the reservation must be done before 12:00.
Always Bring Only Super-Duper-Important Stuff. I am lucky to be surrounded by generous friends who don't hesitate to lend me their tents. However, I only have a backpack and I don't own the bike either (yep, I borrowed it from another friend) so I have to be really picky about what I carry during the trip. I tried to pack all the stuff together with the tent as compact as I could into my backpack.
Location: Bogesund Naturreservat, Vaxholm municipality
I bring the least belongings as a barter of all the inconveniences to enjoy the most out of my journey. For example: instead of a sleeping bag, I bring more warm clothes as a pillow for sleeping. I also adapted to eating bread, cheese cubes, biscuits, fruits, and vegetables which are easier to pack although I am a real Indonesian or Asian cuisine lover who always craves for rice and noodles.
Don't Be Shy: Ask and Talk to Local Swedes. Swedes may seem very reserved and avoid small talks, but hey, we travel to see and understand other cultures, right? They are really helpful and will appreciate us if we respect nature as they do. Although we were confident to know where to camp, we always asked locals and they would say, "ah, you can pop your tent anywhere as long as it's not a private area" or "it's fine to do camping as long as it's not someone's lawn and people can't see you from their houses". Isn't it Allemansrätten spirit?
As a Muslim woman, wearing a hijab and abaya during cycling may also seem unusual. I remember an old couple whom I talked to in Ornö island, curiously pointed at my abaya and asked, "are you cycling with that kind of dress? Isn't it difficult?" From there, I could say that Allemansrätten enables me to see and communicate with different cultures.
Learn the (Possible) Wild Animals to Meet. Deer, rabbit, cow, horse, and sheep are just okay. They are normal to be seen in any countryside in Sweden. But have you expected to meet wild moose, badger, or boar? If I don't go bike-camping, I would not find them in real-life, so prepare yourself for this sort of surprise!
Amongst them, I have never been expected to meet the fox. Thus, I didn't learn how to deal with them. In Ornö island, we were planning to finish off the kebab pizza bought two days earlier until two foxes crept across from the small island to our camp. For the first time, I was thinking "ohh how cute that fox is," then my friend stared coldly and whispered, "they came because we brought kebab. We will not be able to sleep tonight." I stopped complimenting the foxes then running to hide the kebab inside a public toilet nearby, so that we could sleep peacefully, haha!
Location: Norra Sorunda, Nynäshamn municipality
One more thing to watch out for while camping in Sweden is the tick bites. I got bitten by ticks 4 times but I am grateful that they didn't cause Lyme disease. Unfortunately, I still got tick bites although I used chemical repellant and tuck my pant legs into socks. They are super small, so be careful. I always try to check my clothing and remove the tick head as I find them. Also, I get a shower as soon as possible once I return to my housing.
Biking Apps or Google Maps is just enough? In my experience, Google Maps is sometimes reliable for a night ride and easy to get the updated live condition of the road. But since it's free, it doesn't provide small possible roads in detail compared to other apps which are specific for cycling.
On the other hand, those cycling apps are mostly freemium. Yes, they are free until you use their premium services. I use one app which only provides one municipality area for free. Stockholm county consists of 26 municipalities (kommun). What annoyed me is the apps kept asking me to pay every time I tried to move from one kommun to another.
Entering the autumn season, I start checking the weather forecast app more often and paying attention to the wind direction too. Cycling in the wind can potentially cut your speed in half with the same effort expended as when there is no wind.
Crossing the sea by Ljusteröleden ferry between Östanå (mainland) and Ljusterö (island)
Overall, here I recap to you some Dos and Don'ts based on my very very very personal view…
Do's:
Eat the apple, banana, or any fruits with high calories and water to substitute your energy
Also, eat cucumber. It has some other advantages: to substitute your water outtake, durable, and can be used for cleaning any bad smell or dirt
Always bring a spare battery for your lamps
For muslimah: ties the hem of your skirt or abaya so it doesn't get caught between the bicycle chain while cycling and wear instant hijab
Start the trip by cycling in the night then camping before the sun rises if you want to enjoy the moonlight in the middle of the dark, have a sip of soothing silence, and don't want to be disturbed by big cars or trucks going back and forth
Don'ts:
Eat instant cup noodles of Pop Mie like in Indonesia. Simply because those items are expensive here 😛
Buy and keep kebab pizza or any kind of food which contains meat. Sure you don't want to attract foxes as I did. It was not a cute moment, tho..huft
Fully rely on your gadget. I realize that reading printed maps somewhat save time and energy to focus on the journey rather than keep thinking where-to-charge-our-dying-smartphone-battery because we depend too much on the navigation there
Start the trip by cycling in the night then camping before the sun rises if you hate or afraid of darkness, avoid meet any wild animals, and don't really bother by big cars or trucks going back and forth in the middle of the day
Artika Farmita
Master Student in Media Management
Artika Farmita
Master Student in Media Management
KTH Royal Institute of Technology
Editor: Badai Kesuma