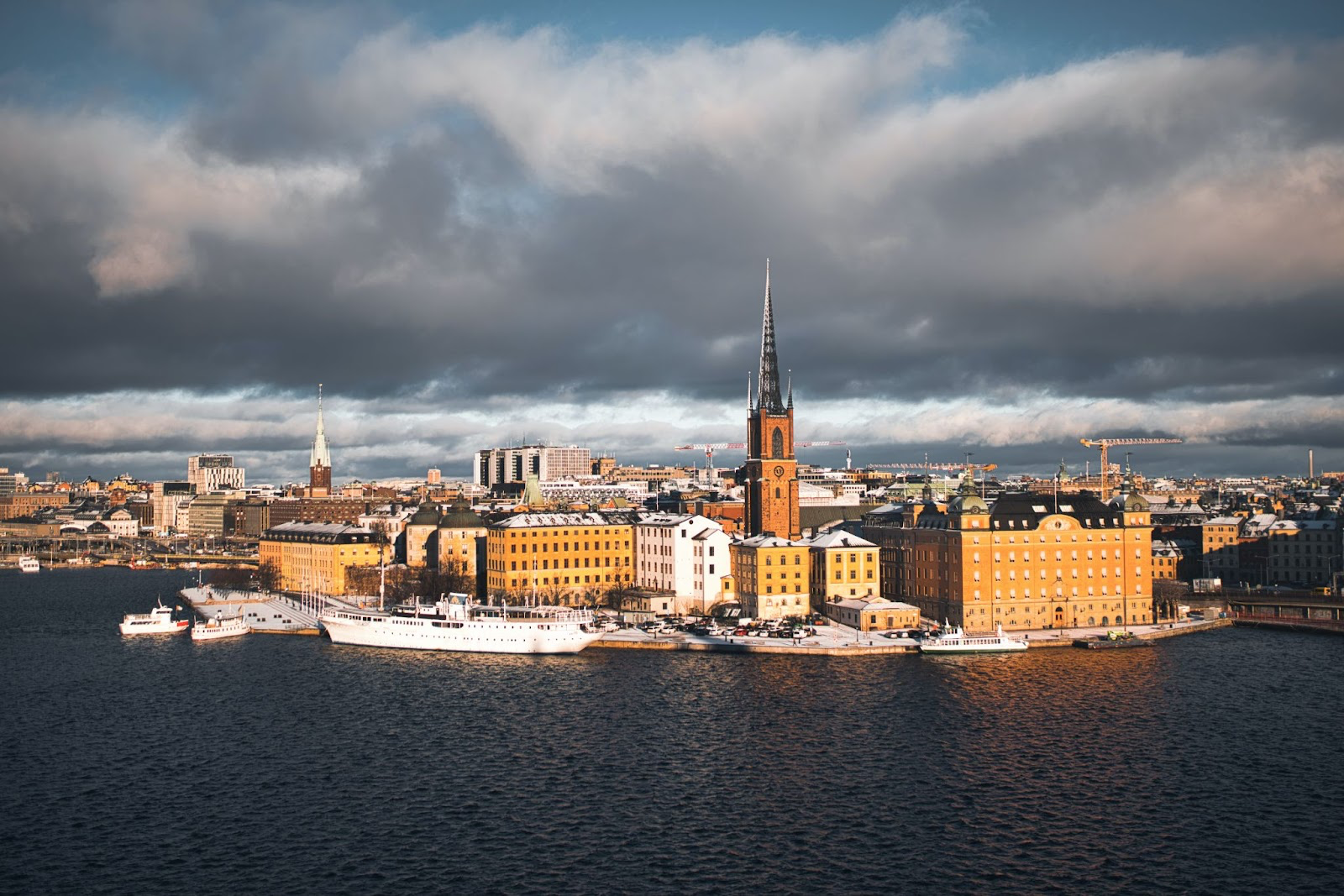 Fig.: Winter in Stockholm! (from Unsplash https://unsplash.com/photos/oSGXn0TaKiU)
Hello everyone!
It is currently approaching the end of winter in Sweden. This year's winter (2022) has been quite mild compared to the previous years, but as mild as it gets, it still can be pretty harsh. Winter is dark and cold; the sun comes out only for a few hours, and when it does, it's not as warm as we know (which is somewhat useless if you ask me). So, at least for me, it is essential to have something to do to cope with the darkness and coldness of winter. Since I live in Stockholm, I'm going to share some things that I did that you can do during winter in the capital.
Ice Skates
I love ice skating. I often skated before coming to Sweden, but I've never skated outdoors like in the movies. So if you want to try something like this, Stockholm is the right place for you!
Of course, the one place you must visit is at the center of the town, Kungsträdgården. During winter, they open up an ice rink with lighting and music. This place attracts even locals and can get quite crowded during the weekends. Worry not, though, since people here will not laugh at you if you fall. However, be sure to know your own limit, i.e., how fast you are and how much control you have, to prevent unwanted incidents.
Fig.: Kungsträdgården ice rink (from: own picture)
Sorry for the vertical picture. The image doesn't picture it much, but it gets even busier than that. But look at those lights! They are definitely pretty! Ah, also, about the music, we can request a song from the DJ on Saturday night as long as the song is available on free streaming platforms. I intended to ask for a song from Indonesian artists to introduce to people here. Still, I never managed to actually do it. Perhaps you will be the one who does so!
They have a rental place for skating shoes, so if you only want to try ice skating once or twice, you can rent the shoes there. They're not the best, super floppy (not the safest for first-timers), but they'll work. But if you want to skate more often, I recommend buying your own shoes. You can buy them new at sport equipment shops, which will cost SEK 400 and above, or secondhand on secondhand sites such as Facebook Marketplace for a lower price.
Actually, if you own skating shoes, you can visit different ice rinks that may or may not have a rental place. For example, there's one in Östermalm called Östermalms IP. They don't have fancy lights and music, but usually, the size is much larger than the one in the city center, and they won't be as crowded as well. If you search for "ice rinks" in Google Maps, you will get a list of places you can visit!
Fig.: Östermalms IP, just at the center of the city. (from: Google Maps)
Aside from these "man-made" rinks, you can also skate on natural rinks, a.k.a frozen lakes. They are everywhere in the Stockholm Greater Area when the temperatures drop below -5 degrees Celsius or so for at least three consecutive days. Be careful, though, since the lakes can appear frozen on top but still melty underneath. Just see how many locals are skating (or casually walking) on the lake. Another way to check is, as thought by kids, to make a firm snowball and slam it into the lake as hard as you can. If the snowball is scattered on top of the snow or ice layer, the lake is usually frozen enough. The second method is obviously more fun, but the first one is more reliable.
Fig.: The beautiful Trekanten in the Winter (from: own picture)
Anyway, my favorite frozen lake to skate in is Trekanten. It is conveniently accessible in just around 12 minutes using the metro from the city center. It is way bigger than the "man-made" rinks I mentioned above and, arguably, prettier, especially on sunny days. With my ice skating skill last year and the crowd's packed density, it took me around 20 minutes to circle the entire lake compared to a minute in Kungsträdgården and 5 minutes in Östermalms IP. If you are up for a more challenging arena, take a half-hour bus ride to Hellasgården. You can also do other winter activities there, including skiing, sleighing (pulka), and ice baths.
Christmas Market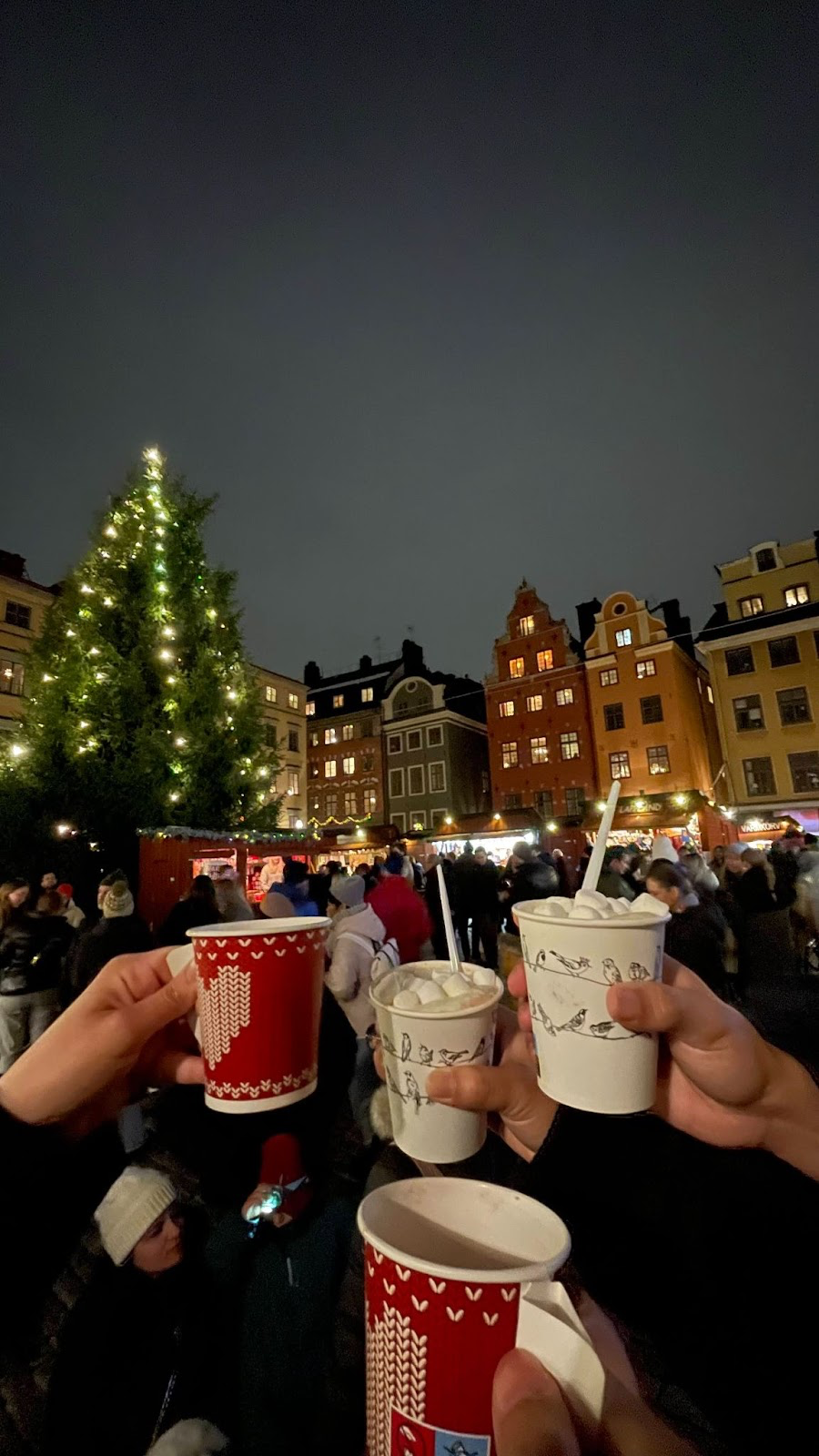 Fig.: Hot chocolates! (from: own picture)
Stockholm is notorious for its lackluster Christmas markets, which closed super early (6 PM!), but some places are worth visiting. For example, in the touristy Stortorget of Gamla Stan, a free Christmas market opens the third week of November until Christmas week. Here you can enjoy various drinks and cuisines, such as hot chocolates and warm sugar-glazed almonds or hazelnuts. They also sell things, such as decorations, gloves, or even jams or jars of honey. You can use the Swish app or debit card to pay, as most merchants are cash-free. You can feel the Christmas vibe here with the smell of cinnamon, the sight of a big Christmas tree, and the shivers from chilly winds.
If you want something fancier, you can pay a visit to Skansen. Yes, you have to pay; it's not free. Skansen is an open-air museum, but you can think of it as a zoo with fancy old Swedish buildings. During Christmas time, they usually open up a Christmas market much bigger than the one in the Gamla Stan. They sell a wider variety of stuff. For instance, in the foods and drinks category, they sell kolbulle – a thick pancake filled with bacon or tofu fried over an open fire made from charcoal. Skansen's Christmas Market also provides entertainment like, you guessed it, the infamous Swedish circle dance with live music. You can participate in the dance by simply walking into the chain of people moving around a centerpiece, usually a Christmas tree, and following their moves. A dance leader will be nearby the centerpiece to help you sing the verses and demonstrate the choreography.
Foods
It is nice to have something warm inside when it is cold outside. Besides being in a well-heated room, food can bring the warmth we crave. Swedish people know this well; perhaps that is why they establish and celebrate some festive days for food during winter and throughout the year. In December alone, there are days for mulled wine (glögg) on the 1st, gingerbread cookies (pepparkakor) on the 9th, and saffron buns (lussekatter) on the 13th. I am not exaggerating to say that every corner of the city smells like gingerbread cookies and/or saffron buns throughout the month.I personally don't mind it, but some people who are not accustomed to these smells might find it annoying. Taste-wise, I am a fan of pepparkakor but not lussekatter.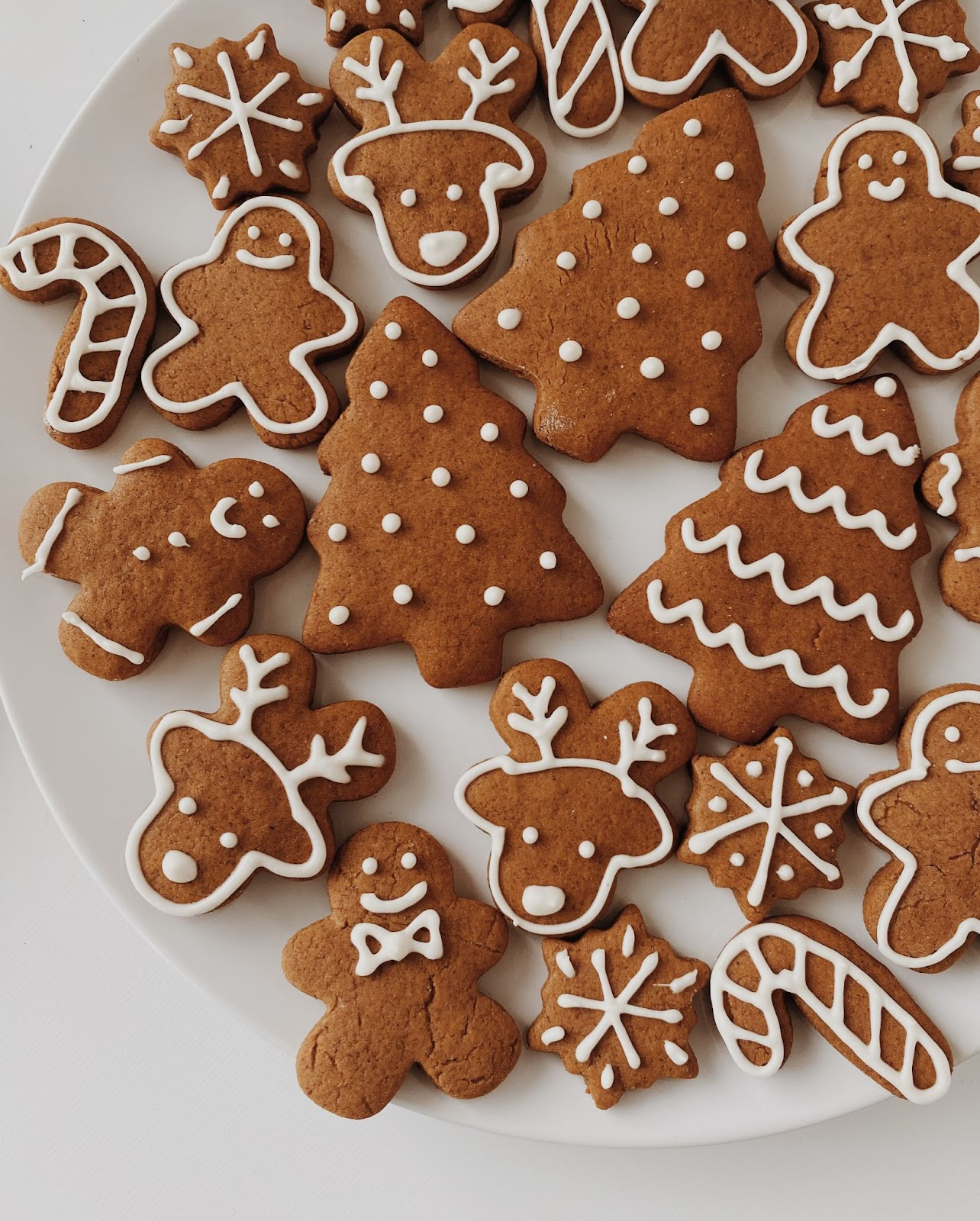 Gingerbreads, aka. Pepparkakor! (from Unsplash https://unsplash.com/photos/3DrCZblTGoQ)
In Sweden, people celebrate Christmas on Christmas Eve. Like any other celebration, the main activity is gathering with family and eating the holiday's staples (julbord). Word-by-word translation of julbord is "Christmas Table" but Swedes use it to refer to courses of foods. At the least, a typical julbord consists of pickled herring (sill) and smoked or marinated salmon for appetizers, a Christmas ham (julskinka) and potato-anchovy casserole (janssons frestelse) for the main course, a red beet salad for the side dish, and rice pudding (risgrynsgröt) alongside other sweet assortments for the dessert. If it seems too much to prepare the julbord yourself, you can just visit any Swedish restaurant in Stockholm. Just be sure to bring some friends with you and book a couple of days in advance!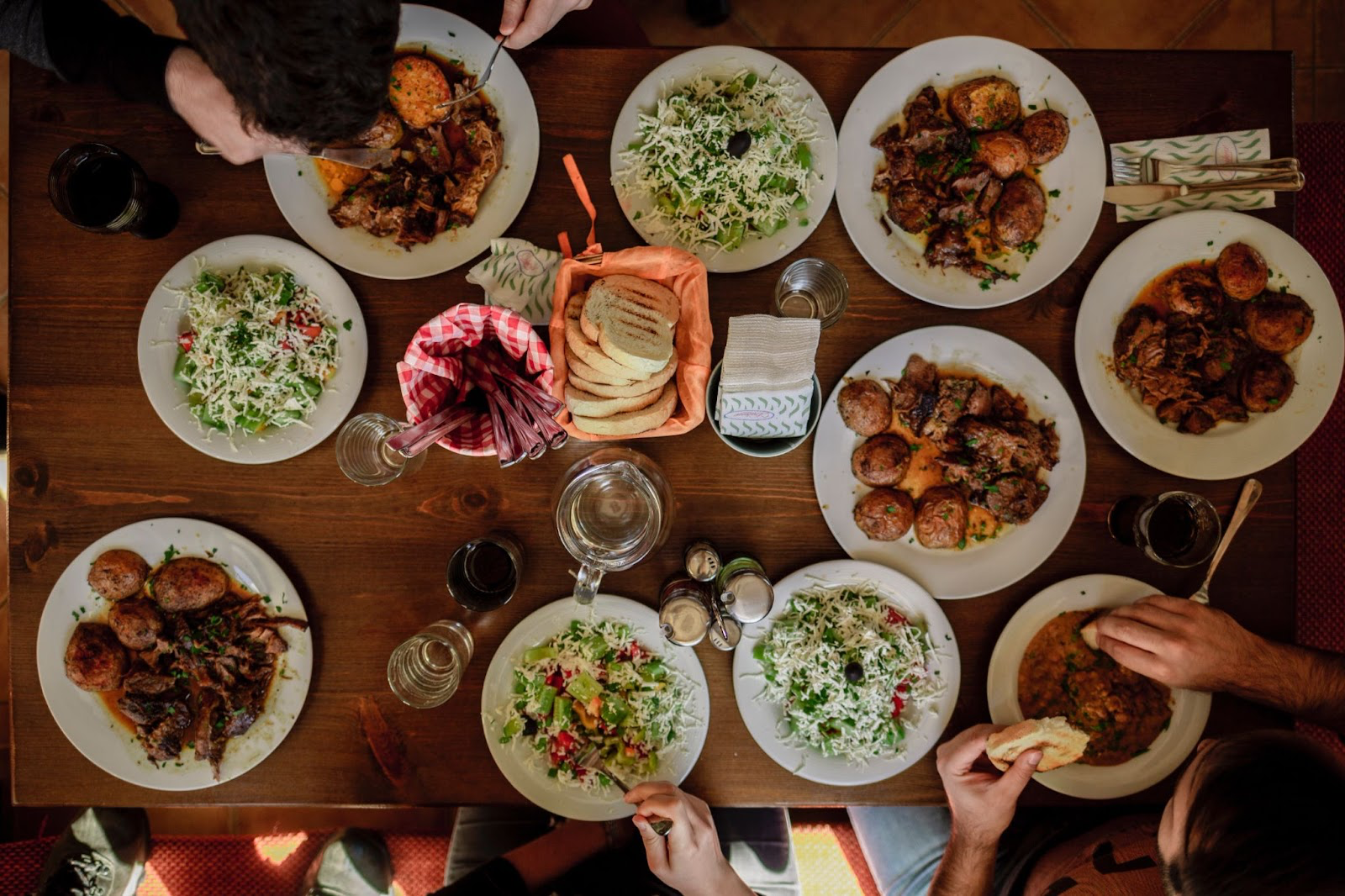 Fig.:Julbord literally means Christmas Table, which is filled with food like this!
(from Unsplash: https://unsplash.com/photos/Q_Moi2xjieU)
Harits Nur Fauzan
Interactive Media Technology
KTH Royal Institute of Technology

Editor: Ursula Angelica